About 'Tata Play Brand Advertising Platform'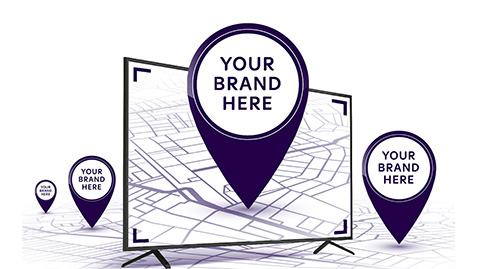 Meaningful & effective communication to grow your business
Choose the advertising option that suits you best
The Landing Channel

Landing Channel is a video that is played every time the Set Top Box is switched on – with "100" as the dedicated listing number for it. Each box type has unique Landing Channel, as per the distinct profile of the relevant audience. Landing Channel is a measurable medium and offers the advertiser with pre- and post-evaluation of campaigns. 

Search & Scan Banner

Search & Scan Banner is part of EPG which appears in the lower third of the TV screen on every channel swap.

Search & Scan banner is used for checking present and future programme​ listing across channels. Appearance of Search & Scan banner is channel agnostic. Image branding on Search & Scan banner is a great way to reach out to the entire TV viewing audience at any given point and offers great top-of-mind recall.

Geo-Targeting

Geo-targeting is now possible on the Search & Scan Banner. Brands now have the opportunity to showcase different campaigns in different states/ regions.

Guide

Guide – the most preferred button on the Tata Play remote – leads to to EPG with channel and programme listing. Image branding in Guide is conspicuous and offers the advertiser with high recall for any brand building or CTA-driven creative.

Associate with Relevant Content

Associating with relevant content offers immense opportunity to reach out to the right TG and create an engaging impact. Tata Play has a plethora of such content pieces which can be broadly classified into 3 segments:
 

Tata Play Services (Paid for) – Relevant content opted by viewers on paid basis. Examples include Fitness, Beauty, Learning English, Cooking, Grooming, Etiquette, etc.
Tata Play Services (Free for viewing) – Curated Bollywood and regional content packaged together as an offering for free viewing. Examples include like Tata Play Show Bizz, Tata Play Bhojpuri Sanima, Tata Play Health Qyou, etc.
Pop-up Services – An assortment of Bollywood, Hollywood movies, serials and TV shows launched as dedicated service for specific period. Examples include MAMI movie fest.

Interactive Ads​

Adding red button to video ad converts the ad into an interactive ad and offers an engaging experience. This red button can lead to contests, graphics with product or offer information.
Know more about Tata Play Advertising Mediums
Landing channel

The gateway to TV viewing for unmissable reach

S&S banner

Ads that appear on every channel swap for great top-of-mind recall

Tata Play services

For sharp targeting and communicating with highly engaged viewers
Advertise with us
Here are all the benefits you gain with us

Mass reach
Reach out to viewers across the length and breadth of India. 

Viewers with buying power
The Tata Play platform provides you with outreach power to audiences across diverse socio-economic segments. The popularity of our online transactional channels highlights the digital awareness and the premium lifestyles of our viewers—ensuring you a mature consumer base.

Targeted reach
Choose your audience from various segments – SD, HD or HD+ with a wide range of interests such as fitness, health, cooking, beauty, Bollywood,dance, acting, regional content and many more

Relevant content
Select the content piece to associate with to deliver required reach for the campaign. E.g., Target Hindi heartland viewers with our service "Bhojpuri Sanima"

Driving engagement via Interactivity
Red button can be placed on the landing channel leading to various interactive formats such as games, quiz, graphics, etc.

Measurement
Our partnership with top market research organisations as well as India's biggest names in ad monitoring allows you to monitor the impact of your ad campaigns on Tata Play. This helps you plan and execute your marketing and outreach 
Get in touch