DVD picture quality & CD quality sound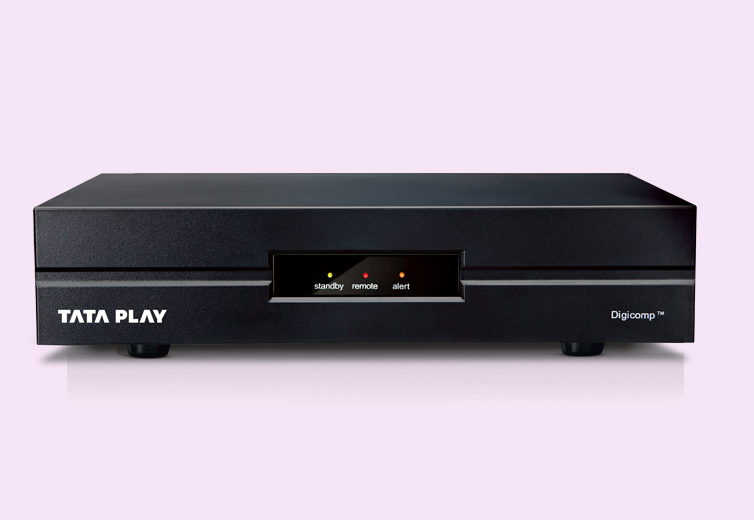 Unlike generic Set Top Boxes, Tata Play offers a host of exciting services such as Tata Play Services and Showcase, and our Pay-Per-View movie service. Tata Play DTH also gives you the luxury to select the shows of your choice through innovative packaging offerings.
24x7 at Your Service

Pay for What You Watch

Quality Viewing

Showcase Movies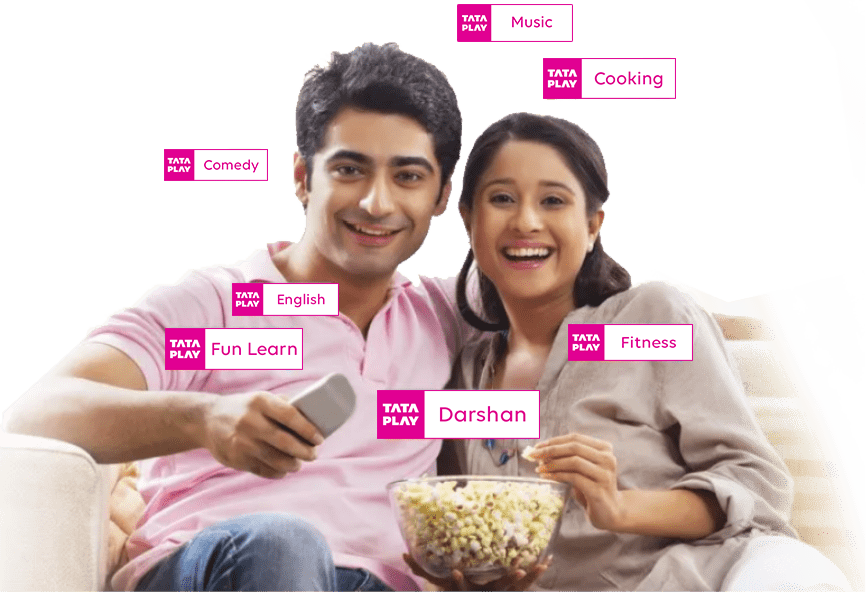 Tata Play Services – Something for everyone!
Take your entertainment and learning to a whole new level. Tune in to our 35+ exclusive, interactive, value-added services for all age groups.
From latest blockbusters, Kdrama, classic TV shows and movies, horror, thrillers, and crime to music, fitness, dance, cooking, devotion, education, romance, astrology and more, our services cover a range of interests. You also get regional cinema, popular movies and shows in Marathi, Tamil, Malayalam, Kannada, Bangla, Telugu, Punjabi and Gujarati.
Whether you're a student preparing for JEE & NEET, a parent interested in fun-based learning for your little one, or a senior citizen looking for health tips, we cater to all viewers – from toddlers to seniors! Choose from Tata Play Aradhana, Tata Play Theatre, Tata Play Fun Learn, Tata Play Comedy, Tata Play Hollywood Local, Tata Play Classic Cinema, Tata Play Fitness, Tata Play Bollywood Premiere, Tata Play Videshi Kahaniya, and many more.
Services such as Family Health, Darshan and Classroom are completely free. Take your pick and happy viewing!
Why Tata Play DTH?
With 24x7 customer care support in 12 languages, one year warranty, multiple recharge options and excellent relocation services, Tata Play DTH is true value for money.
Unmatched Customer Service

One Year Annual Service Commitment and More

Multiple Recharge Options
Book a new Tata Play connection
*Please note:-
The price above is towards opting for a Connection only and is inclusive of taxes.
The customer must subscribe to Channel(s) and/or Pack(s) along with the Connection.
Based on the Channel(s) and/or Pack(s) selected by the customer, additional charges shall apply, such as subscription fee, Network Capacity Fees (NCF) and taxes.
HD channels are available for viewing on opting for HD connections only.
All other terms of the subscription contract will apply. All other terms of the subscription contract will apply. Please click here for more details.
Get Help

Get your queries answered in 12 languages, 24x7 from all lines, give us a miss call on 09229692296 right away.

Tata Play Mobile

Enjoy TV on the go, from anywhere! Available on Android, iOS and even your Windows & Mac laptops and desktops.

Your questions answered

Get all the answers about everything related to Tata Play.

Tata Play+ HD

Tata Play+ HD allow you to record up to 3 shows or programmes simultaneously.