Amplify your entertainment with a Tata Play Multi TV connection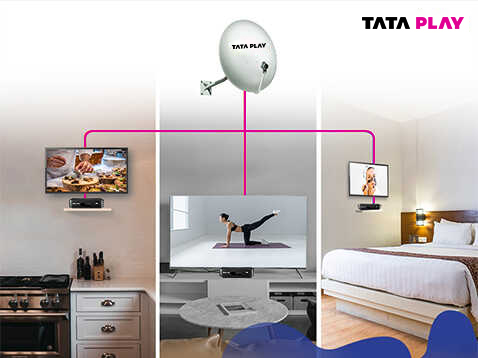 Got more than one TV at home? With Tata Play's Multi TV, you can get multiple TV connections with a single dish - all within the same house, letting you catch up on your movies while your kids watch their favorite cartoons – all at the same time!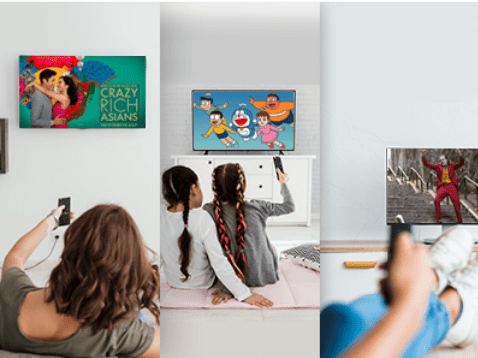 What is Tata Play's Multi TV connection?
Tata Play's Multi TV connection service allows you to connect up to 3 additional connections in your home to a single dish in addition to the primary STB, which ensures that every family member can watch what they like – simultaneously and without interruptions.
What's more? You have complete control of your account – you pay only for what you watch, pause and resume as per your convenience, and much more! Why get a second Tata Play connection, when you can have up to 4 set top boxes with just one dish. Get a Tata Play Multi TV connection today!
Multi TV. Multiple benefits.
Watch different content on
different TVs
Pay only
for what you Watch
Pause and resume Set Top Box as you wish
Get 24x7 service
and support
Buying Multi TV? Great choice!
Choose a Box that's right for you

Set Top Box
Smart Set Top Box for TV + apps on a single screen
₹200 instant off on online payment
+2 Offers
Save more on online payments
Applicable on all online payments
Get instant ₹200 discount. Use coupon code TPL200
Save more with exclusive online payment offers on new connection

Mobikwik
Get cashback of 10% upto ₹50 with transaction of ₹300 or more

PayZapp
Get Flat ₹50 cashback on transaction of ₹400 or more
For best viewing experience on entertainment apps,
use high speed Broadband/WiFi connection (4 Mbps or higher)

DVD picture quality
Quality experience with amazing DVD picture clarity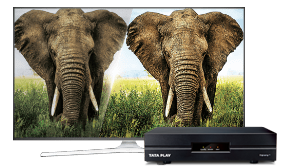 HD Set Top Box
Cinema-like effects with superior picture & sound
₹150 instant off on online payment
+2 Offers
Save more on online payments
Applicable on all online payments
Get instant ₹150 discount. Use coupon code TPL150
Save more with exclusive online payment offers on new connection

Mobikwik
Get cashback of 10% upto ₹50 with transaction of ₹300 or more

PayZapp
Get Flat ₹50 cashback on transaction of ₹400 or more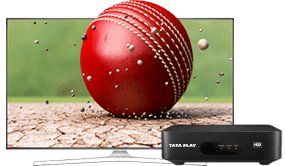 HD Set Top Box
Future-ready with HD viewing & recording
₹400 instant off on online payment
+2 Offers
Save more on online payments
Applicable on all online payments
Get instant ₹400 discount. Use coupon code TPL400
Save more with exclusive online payment offers on new connection

Mobikwik
Get cashback of 10% upto ₹50 with transaction of ₹300 or more

PayZapp
Get Flat ₹50 cashback on transaction of ₹400 or more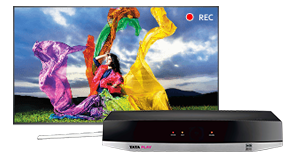 FAQs
Find answers to your queries here
What is Tata Play Multiple TV Connection offering?

With Tata Play's Multi TV connection offering you can get multiple TV connections with a single dish - all within the same house.

Tata Play's Multi TV connection powers up to 3 additional connections in your home to a single dish, in addition to the Primary Set Top Box, under the same Subscriber ID (1 Primary + 3 Additional Set Top Boxes).

Can we connect multiple TVs under one Tata Play subscription?

Yes, you can connect 3 additional connections in addition to the Primary Set Top Box, under the same subscription/Subscriber ID (1 Primary + 3 Secondary).

How do I set up multiple TV connections with a single dish?

If you're an existing Tata Play customer, click here to get a Tata Play Multi TV connection

If you want to sign up for a new connection, click here

How to get a Tata Play Multi TV DTH connection?

How many STBs can I buy at once, if I am a new Tata Play customer?

What are the Tata Play Multi TV connection monthly charges?

Tata Play Multi TV connection starts at ₹849. To get a Tata Play secondary connection, click here
Multi TV monthly charges are calculated based on the number of packs on your primary connection.

How to apply for a Tata Play secondary connection with a single dish?

Are there any offers on purchase of MultiTV from Tata Play?

My neighbour is interested in buying a Tata Play connection. Can I order a Tata Play Multi TV connection for him?

No, it is for same house, but different rooms, so you can't order a MultiTV connection for him. But you can refer him to buy a new Tata Play connection and earn Rs 200 in your Tata Play account. What's more, he also earns Rs 200 in his account on activation. So, refer now -  www.tataplay.com/refer