Tata Sky continues to extend its lead in the DTH sector in the January – March 2020 quarter: TRAI data
~ Tata Sky leads the sector with 32.33% market share
~ Total subscriber base grew by 0.28 million in the quarter, faster than other players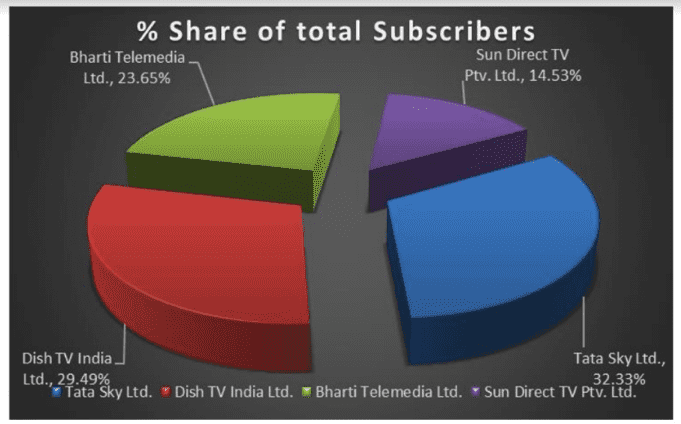 The Telecom Regulatory Authority of India (TRAI) today released 'The Indian Telecom Services Performance Indicators' data for the January- March'20 quarter. Sustaining its growth pace for three quarters in a row, Tata Sky has solidified its lead yet again in the DTH and Pay TV category clocking in a market share of 32.33% and a growth of 2.1% in the quarter ending March'20.  According to the report, the Indian DTH service has displayed phenomenal growth since its launch in 2003. The total number of active subscribers with pay DTH operators (Tata Sky, Airtel, Dish TV, Sun Direct) in India in the quarter ending March 20 is 70.26 million.
 

Market Share (%)

DTH Operator

QE Sep'19

QE Dec'19

QE Mar'20

Tata Sky

31.61%

31.80%

32.33%

Dish-D2H

31.23%

30.55%

29.49%

Airtel

23.39%

23.31%

23.65%

Sun Direct

13.78%

14.35%

14.53%
Commented a Tata Sky spokesperson on the report, "The TRAI report shows that Tata Sky has been consistently gaining market share and subscribers at a pace that is faster than any other platform. We believe this can be attributed to our customer centric outlook. The overall increase in DTH subscribers is also a great sign for the M&E sector."
 

 

Quarter ending

 

Growth (millions)

 

Growth (%)

 

DTH Operator

Sep' 2019

Dec' 2019

Mar' 2020

 

Q3 vs Q2

Q4 vs Q3

 

Q3 vs Q2

Q4 vs Q3

 

Tata Sky

21.91

22.25

22.72

 

0.34

0.47

 

1.6%

2.1%

 

Dish-D2H

21.64

21.38

20.72

 

-0.26

-0.66

 

-1.2%

-3.1%

 

Airtel

16.20

16.31

16.61

 

0.11

0.3

 

0.7%

1.8%

 

Sun Direct

9.55

10.04

10.21

 

0.49

0.17

 

5.1%

1.7%

 

Total DTH

69.30

69.98

70.26

 

0.68

0.28

 

1.0%

0.4%

 

Figures in Millions

 

Figures include Active STB numbers including those suspended within last 90 days
About Tata Sky:
Tata Sky Limited, is a joint venture between Tata Sons and TFCF Corporation (formerly known as Twenty-First Century Fox, Inc.). Incorporated in 2001 and launched services in 2006, Tata Sky is India's leading content distribution platform providing Pay TV and OTT services. With the objective of connecting to the best content in the world on any budget, any screen, anytime and anywhere. Tata Sky was the first to launch multiple products and services that redefined the subscribers viewing experience in the country.
Tata Sky was the first to bring customized package and ala-carte channels options and Interactive services on the platform, Hindi programming guide, VOD and DIY video library and many more. 
Tata Sky brought about a complete paradigm shift in the market with the launch of Tata Sky+, offering the breakthrough 'Personal Video Recorder' (PVR) technology for the first time in the Indian subcontinent, with unique features such as Pause, Record & Rewind Live TV. It was also the first to launch a 4k enabled and Transfer enabled STB in India. Tata Sky was the first to launch platform and interactive services customized for the Indian market. The interactive services today include Tata Sky Fun Learn, Tata Sky Smart Games, Tata Sky Vedic Math, Tata Sky English, Tata Sky Cooking, Tata Sky Smart Manager, Tata Sky Classroom, Tata Sky Javed Akhtar, Tata Sky Music+, Tata Sky Darshan, Tata Sky Comedy, Tata Sky Music, Tata Sky Fitness and Tata Sky Dance Studio.
Tata Sky provides the most comprehensive channels and platform services line-up ranging from movies, news, entertainment and sports channels. The Tata Sky Mobile App enables subscribers to experience Live TV as they would have watched it on their TV sets, along with services such as On-Demand with over 5000 titles, Remote Record to set recording on the STB even when not at home or near the STB and Transfer to download and view content recorded from the STB.
The company has invested in state-of-the-art digital infrastructure, partnered with global leaders to provide superior technology and set-up high-end 24x7 call centers in 14 languages across the country manned by multi-lingual customer service associates to offer professional and efficient customer service. Tata Sky currently has more than 600 channels & services (including HD, SD, interactive services and movie showcase).
Tata Sky has been a pioneer in the HD Set top box segment having significant market share in the category. It has been continuously adding new channels and platform services across various genres and languages to beef up its content offering to cater to all segments of the audience. Tata Sky currently serves 22 million subscribers in India.
For more information on Tata Sky, visit  https://www.tatasky.com/