Tune in to watch in 6 different languages
Hindi

(No. 677)

Tamil

(No. 1519)

Telugu

(No. 1418)

Punjabi

(No. 1908)

Bengali

(No. 1318)

Marathi

(No. 1214)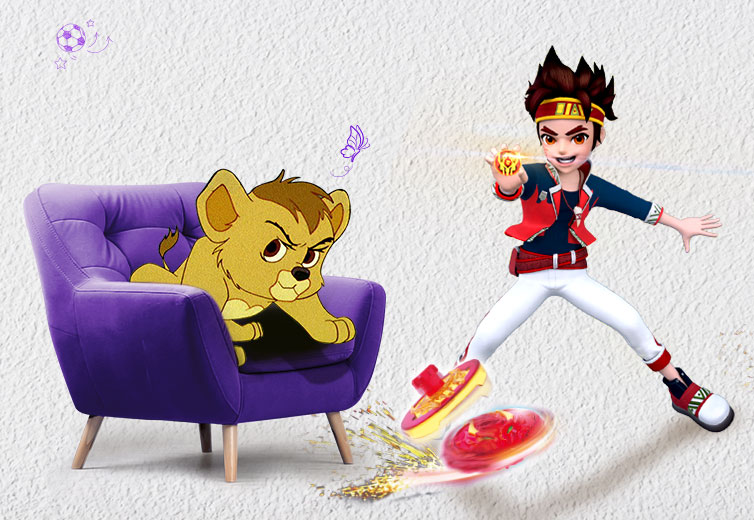 Know more about Tata Play Toons+
Tata Play Toons+ is the new home for fun cartoons like Bablu Dablu, Simba The King Lion, Billa Jasoos & amazing anime like Fury Spinner, Armor Monster and Unite 2 Blast. Not only this, you can enjoy these toons in the language of your choice because they are dubbed in Hindi and 5 other regional languages, namely Bengali, Marathi, Punjabi, Tamil & Telugu. So get set to watch toons all day long by tuning in to the ad-free world of Toons+ today!
Get immersed in the amazing world of Toons+

Outstanding combination of Cartoons + Anime + Movies
Simba the King Lion

The Lion King is shot by poachers, as part of Sher Khan the Bengal tiger's plot to overthrow the king from his throne. Young Simba, son of the Lion King, suspects something strange and subconsciously senses that the Tiger will one day be his greatest enemy.

Bablu Dablu

This light-hearted comic romp, is set in a lovely wooded wonderland in rural Northeast China. Though the surroundings might seem idyllic, deep in the heart of the region peace has been disrupted by the dastardly Logger Vick, who schemes to transform the majestic forest into his own personal lumberyard!

Coming Soon

Billa Jasoos

A circus is arriving in a small town full of joy. A variety of cool performance brought a lot of joy into the town. The circus established a detective agency led by Billa Jasoos, which help people solve various problems.
Unite-2-Blast

A dimensional fissure occurred on the Earth suddenly, a bunch of mechanical beasts came to the Earth and attacked the city. Veer, who dreams of being a hero, accidently met with the Mecha Skyden and they became partners during the attack. They worked together to fight against the enemy.

Fury Spinner

After decades of development, Fury Spinner duel has become one of the most popular sports in the world. At this time, the "Ultimate Feast" Invitational Tournament of Fury Spinner began. The protagonist Veer is invited to the mysterious island together with other top players in the world to embark on a survival adventure.

Coming Soon

Armor Monster

One day, 12-year-old Veer once again met the subway "0" which her mother took nine years ago, and the appearance of the subway seems to have some connection with the necklace left by her mother. In order to find her mother, Zachary stepped on the magic subway without hesitation!
Felix All Around The World

Felix spends his summer holiday in Norway together with Sophie and her family. After saving them from a giant troll, Felix gets himself lost and must then find his way home, all by himself. On his adventurous travels – chased and hounded by an unrelenting Poltergeist and wise owl – Felix meets many mystical creatures

Bablu Dablu: Homeward Journey

Another long year's labors have ended, and Logger Vick is "pining" for home. But he finds, to his horror, that his paltry savings won't even get him a ticket on the train! He schemes an all-out, full-scale tree-chopping frenzy!

As the forest quakes under the weight of falling trees, Bablu and Dablu rally their animal pals to defend against Vick's latest campaign of destruction.

Bablu Dablu: Robo-Rumble

With Spring Festival just around the corner, Logger Vick decides to make one final attempt at earning enough money for a grand New Year's celebration. However, when he learns that he has just been laid off for the holiday season, his hopes are shattered. But when a giant "Supper Chopping Robot" arrives to log the entire forest, the animal gang must learn to trust their one time enemy and work together to defend the forest!

GATTU: Lolipop in Fantasy

Genie is a big fan of anime. Accidentally, she pops into a fantasy world, where she meets her childhood hero - Gattu The Power Champ. Gattu is not as brave as in her memory; however, he still hopes to bring Genie back to her own world. An intriguing adventure thus begins…