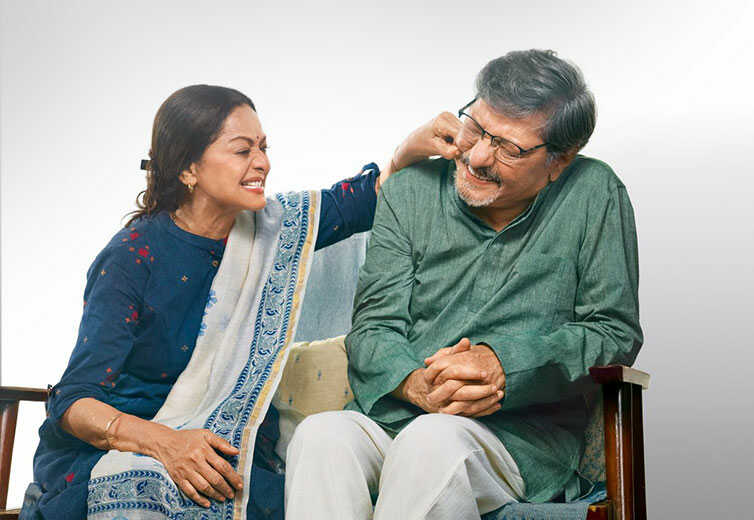 A friend and a guide for Seniors
Tata Play Seniors is a specially curated service for senior citizens, powered by Dominiche. Veteran actors and popular screen couple Amol Palekar and Zarina Wahab are the face of the service.
Features of the service:
Guidance on how to use the mobile phone to book a cab, chat on WhatsApp, order online and click pictures.
Learn a new hobby, know about financial planning and get tips to travel the world.
Know from a panel of Doctors who will tell ways to avoid joint pain, suggest diet for diabetes, offer ayurvedic tips and home remedies for healthy living.
Play Suduko on our Interactive Layer, new puzzle daily.
To subscribe, give a missed call on 080-66982232
Ek Din Ek Jeevan

Renowned Journalist Tavleen Singh spends a day with famous personalities from all walks of life.

Timings: 11:30 AM & Repeat: 6:30 PM

Days: Saturday

2nd Innings

A segment that will teach you various things that will help you lead a better life.

Timings: 11 AM & Repeat: 5:00 PM

Days: Monday-Friday

Tab aur Ab

Yesteryear star Tabbasum and her granddaughter Karishma come together  to talk about the life then and now. The idea here is to have a constructive explanation of then to now and now to then and hence bridge the gap between the two generations.

Timings: 3:00 PM & Repeat 7:30 PM

Days: Friday
Monday
Programs
Timing
Details
Astro Gyan
New: 6:30 am
Repeat: 8:00 am
Today's Prediction - Astro Gyan
2nd Innings
New: 11:00 am
Repeat: 5:00 pm
Digital School
Aap Ka Saathi
New: 2:30 pm
Repeat: 8:30 pm
Doctor Sahab
Zindagi Ek Safar
New: 3:00 pm
Repeat: 7:30 pm
Inspiring Story
Tuesday
Programs
Timing
Details
Astro Gyan
New: 6:30 am
Repeat: 8:00 am
Today's Prediction - Astro Gyan
2nd Innings
New: 11:00 am
Repeat: 5:00 pm
Hobby World
Aap Ka Saathi
New: 2:30 pm
Repeat: 8:30 pm
Life Coach
Zindagi Ek Safar
New: 3:00 pm
Repeat: 7:30 pm
Seniors For Change
Wednesday
Programs
Timing
Details
Astro Gyan
New: 6:30 am
Repeat: 8:00 am
Today's Prediction - Astro Gyan
2nd Innings
New: 11:00 am
Repeat: 5:00 pm
Ghumne Chale
Aap Ka Saathi
New: 2:30 pm
Repeat: 8:30 pm
Rishton Ki Baat
Zindagi Ek Safar
New: 3:00 pm
Repeat: 7:30 pm
Inspiring Story
Thursday
Programs
Timing
Details
Astro Gyan
New: 6:30 am
Repeat: 8:00 am
Today's Prediction - Astro Gyan
2nd Innings
New: 11:00 am
Repeat: 5:00 pm
Aap Ki Suraksha
Aap Ka Saathi
New: 2:30 pm
Repeat: 8:30 pm
Healing
Zindagi Ek Safar
New: 3:00 pm
Repeat: 7:30 pm
Inspiring Story
Friday
Programs
Timing
Details
Astro Gyan
New: 6:30 am
Repeat: 8:00 am
Today's Prediction - Astro Gyan
2nd Innings
New: 9:30 am
Repeat: 11:00 am
Finance Ki Baat
Aap Ka Saathi
New: 2:30 pm
Repeat: 8:30 pm
Anokha Ilaaj
Tab Aur Ab
New: 3:00 pm
Repeat: 7:30 pm
Tab Aur Ab
Saturday
Programs
Timing
Details
Astro Gyan
New: 6:30 am
Repeat: 8:00 am
Today's Prediction - Astro Gyan
2nd Innings
New: 11:00 am
Repeat: 5:00 pm
Digital School
Ek Din Ek Jeevan
New: 11:30 am
Repeat: 6:30 pm
Ek Din Ek Jeevan
Aap Ka Saathi
New: 4:00 pm
Repeat: 8:00 pm
Doctor Sahab
Zindagi Ek Safar
New: 3:00 pm
Repeat: 7:30 pm
Zindagi Ek Safar
Sunday
Programs
Timing
Details
2nd Innings
New: 11:00 am
Repeat: 5:00 pm
Hobby World
Aap Ka Saathi
New: 11:30 am
Repeat: 5:30 pm
Life Coach
The Matinee Show
New: 12:00 pm
The Matinee Show
Has Has ke
New: 2:30 pm
Has Has ke
Zindagi Ek Safar
New: 3:00 pm
Repeat: 7:30 pm
Celeb Interview