Tata Play Music powered by Hungama is a one-stop destination for all your music needs. Multiple genres available for every mood and for every family member. It has 20 audio stations and 5 video stations. The wide offering includes variety of genres like Bollywood, Evergreen Hits, Romantic Hits, Indie Pop, Devotional, International, 9 Regional stations like Haryanvi, Bhojpuri, Punjabi, Ghazals, Classical and many more. The topical station covers specials like festivals, celeb birthdays, events etc. All stations are available 24x7 and completely ad-free!
Also enjoy music on the go with FREE Hungama Music Pro subscription worth Rs.99/month. To avail, go to Tata Play Mobile App, look for MUSIC ON MOBILE rail and download the Hungama app. Now every Tata Play Music subscriber is a Hungama Music Pro member and can enjoy 1+ Crore songs.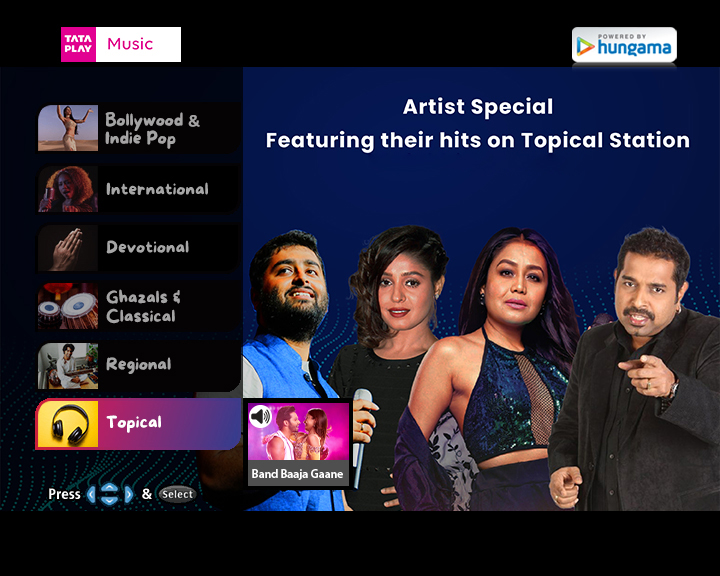 Apnon ko kareeb laye​
Enjoy 20+ music stations across a range of genres like Bollywood & International, Ghazals, Classical, Devotional, Regional & Topical. All stations are available 24x7 and completely ad-free! For those seeking South channels, we've got South Special for quick access to your favourite genre.