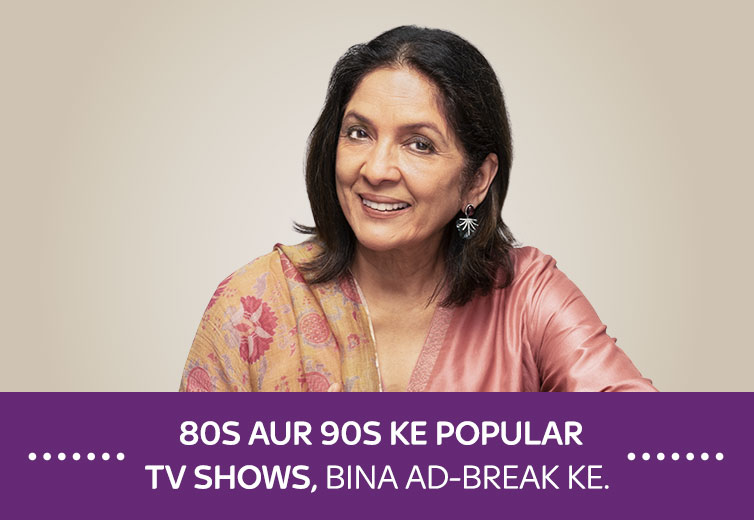 Bringing back 80s & 90s…
Imagine, the golden hour light falling on your porch and you're watching evergreen classics with your favourite ice cream… Dreamy, no? Well, we're bringing back those beautiful moments with Tata Play Classic TV. Tune in to 152 and enjoy popular Classic Hindi TV shows – from Banegi Apni Baat and Fauji to Hum Paanch and Jeena Isi Ka Naam Hai, and so many more… all this totally ad-free! If this is not enough, we're also giving you a catalogue of nostalgic videos which will give you the feels of 80s and 90s with snackable videos like Bachchpan ka Pyaar, Annsuni Stories, Iconic TV Shows and Ek Nazar.
Live

Fauji

Genre: Action/Drama

YOR: 1989

Starcast: Shah Rukh Khan, Rakesh Sharma and Amina Shervani

Fauji is an Indian Hindi-language television series following the training of an Indian Army commando regiment; It was Shah Rukh Khan's debut in television. The story follows a new set of recruits as they begin their training to become commandos in the Indian Army. The series shows the daily struggles of the recruits including physical training, the pranks they play on each other, and the punishments they receive from their officers.

Live

Saans

Genre: Drama

YOR: 1999

Starcast: Neena Gupta, Kanwaljit Singh, Kavita Kapoor and Shagufta Ali

The story revolved around Priya and Gautam, who were a happily married couple with two children, Akul and Mithi. Everything went wrong when Priya and Gautam became friends with Manisha. Manisha falls in love with Gautam, then Manisha and Gautam have an affair. When Priya finds out, it is up to Priya to get her husband back in line.

Live

Hum Paanch

Genre: Comedy

YOR: 1995

Starcast: Ashok Saraf, Sangeeta Naik, Shreechand Makhija, Pawan Malhotra

Hum Paanch is the story of a middle-class white-collar worker, Anand Mathur, who always finds himself in trouble because of his five daughters — Meenakshi, Radhika, Sweety, Kajal, and Chhoti. The three elder daughters are Anand and his first wife's children. The last two are Anand and Bina's daughters. Together, the five girls plan to do something new in every episode. Anand's first wife, who is dead, speaks to him through her portrait on the living room wall; his second wife, Bina, generally supports the daughters' ideas.

Live

Jeena Isi Ka Naam Hai

Genre: Chat Show

YOR: 2002

Starcast: Hosted by Farrokh Sheikh & Suresh Oberoi along with various celebrity guests

Jeena Isi Ka Naam Hai was an Indian award-winning talk show hosted initially by Bollywood actor Farooq Shaikh and later by Bollywood actor Suresh Oberoi. They interview many well-known Bollywood faces as well as television celebrities and gives a peek into their private and professional lives - Naseerudin Shah Jagjit Singh, Bappi Lahiri, Sharmila Tagore, Prem Chopra, Hema Malini, Tanuja, Jaya Prada, Mahesh Bhatt, Kader Khan, Gulshan Grover, Satish Kaushik, Asha Parekh, Sanjay Khan, Pankaj Kapur etc.

Live

Banegi Apni Baat

Genre: Drama

YOR: 1994

Starcast: Surekha Sikri, Irrfan Khan and R. Madhavan

India's first teenage soap that dealt with teenage issues, from pimples to premarital sex. 'Banegi Apni Baat' also has the credit of being the longest running weekly fiction show on Indian television. A group of college friends go through various phases of life together while transitioning from college to moving ahead in their respective careers.

Live

Hasratein

Genre: Drama

YOR: 1996

Starcast: Harsh Chhaya, Shefali Shah and Seema Kapoor

The show is based on the Marathi novel "Adhantari". Hasratein focuses around successes of extra marital relationships. One of the main story is of Savi, a woman who leaves her husband and maintains an extra-marital relationship with another married man, with both their spouses being aware of the situation. Hasratein was one of the most popular television shows of the mid and late 1990s

Live

Raja Aur Rancho

Genre: Detective

YOR: 1997

Starcast: Mohan Bhandari and Ved Thappar

Raja Aur Rancho is a detective series which aired in India on DD Metro in 1997–1998. The show is about a detective named Raja (Ved Thapar) and his pet monkey Rancho, who take up the most difficult criminal cases and try to unravel the mysteries behind them.. Famous TV Actor Mohan Bhandari played the role of Raja in initial episodes.

Live

Yug

Genre: History

YOR: 1996

Starcast: Hema Malini, Mukesh Khanna, Pankaj Dheer and Sudhesh Berry

Yug is a fictional series depicting the story of Indian freedom fighters and their struggle to win freedom for India. The series was produced and directed by Sunil Agnihotri and had notable actors like Javed Khan, Pankaj Dheer, Sudesh Berry, Hema Malini, Shahbaz Khan, Mukesh Khanna, Ashwini Bhave, Vinod Kapoor and Abhimanyu Singh.

Coming soon

Dard

Genre: Drama

YOR: 1993

Starcast: Neena Gupta, Manohar Singh & Shagufta Ali

It is story of Radha, a rich unmarried woman who has a mysterious past. This serial depicts the emotional pain of Radha in her past and the present and how she deals with it. She was a victim, abused by some groups. Aswini Bajaj found Radha lying fainted in his garden. Aswini asked Radha about her. But she refuses to tell him about her past life. She is an unmarried young woman. Later, she got married to Aswini.

Coming soon

Zamana Badal Gaya

Genre: Comedy

YOR: 1995

Starcast: Aruna Irani and Tiku Talsania

This is the story that briefs the generation gap and the standard of life. People want some change to take place, but they are not ready to accept when it happens in their home. This show depicts the double standard life of the people.

Coming soon

Akbar The Great

Genre: History

YOR: 1988

Starcast: Akbar Khan, Puja Acharya, Arvind Bahmi and Vikrant Chaturvedi

Akbar the great is a story of Akbar and his ancestors on how he and his ancestors ruled India. It gives a brief history about Babar and Humayun and full details about Akbar ,his personal life and his administration.

Coming soon

Upanyas

Genre: Drama

YOR: 1988

Starcast: Shekhar Kapoor, Shree Ram Lagu and Nisha Singh

Mohan Vatsal, a writer who had left writing due to family troubles and emotional dilemmas. However, Mohan was actually a skilled writer, whose previous work was appreciated and recognized. After meeting a fan, named Yashodhara, who encourages him to write again, he starts working on a new novel, named Uppanyas.