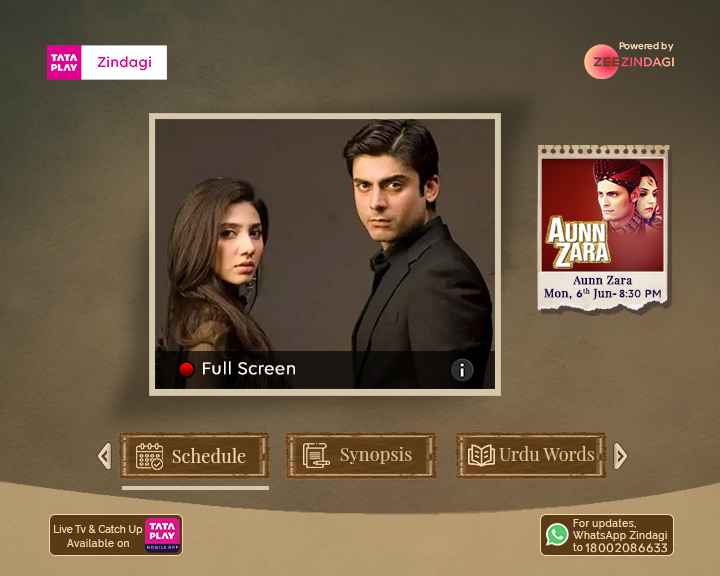 Slice of life stories!
Tata Play Zindagi offers differentiated stories which are real and relatable. Characters so close to your lives and music that will soothe your soul, these beautiful Urdu stories will sure evoke a range of emotions. In addition, by just pressing the red button on your remote the interactive layer will extend an opportunity for you to learn Urdu words, know the show schedule of the entire week and get information about each show. So why wait, tune into channel number 154.
The service is also available on Tata Play Mobile App. To get monthly updates, WhatsApp 'Zindagi' to '18002086633'
Now sit back and enjoy binge worthy finite series only on Tata Play Zindagi!
Most Popular

Zindagi Gulzar Hai

Genre: Romance

Kashaf, a young girl raised by a single mother struggle with class and gender bias while growing up. She detests the rich and privileged for having it easy. However, her perspective shifts when she meets Zaroon, a rich and popular boy in her college.

Mrs. & Mr. Shameem

Genre: Drama/Romance

Shameem marries his closest friend Umaina when she is betrayed by her ideal man. They face the most challenging adversities while they fight tooth and nail with a biased society.

Kitni Girhain Baaki Hain

Genre: Thriller

Kitni Girhain Baaki Hain is a collection of stories related to women across different social classes & age groups who deal with various kinds of issues in the patriarchal society.

Aunn Zara

Genre: Drama

Aunn & Zara are pampered & doted by their respective families. They are forced to get married after a series of misunderstandings. With nothing in common, will their marriage survive the test of time?

Sadqay Tumhare

Genre: Drama

Shano loves Khalil, her maternal cousin & fiance. Her mother, Rasheeda breaks their engagement for selfish reasons. Shano & Khalil plan to get married but fall prey to Rasheeda's emotional blackmail.

Bunty I Love You

Genre: Drama

Dania, a recently widowed woman, tries to woo Bunty, a young man, by spending lavishly on him. However, Bunty continues to flirt with other women. Will Dania be able to get a companion in Bunty?
Silvat

Genre: Romance

Silvat is the story of Noor whose husband takes up a job abroad within the first week of their marriage. As her married life turns into a never-ending wait for her husband, she falls in love with Anwar, a tailor. Will the two express their feelings for each other?

Baarish aur chowmein

Genre: Romance

The story revolves around Siraj who is unable to rent a house in Mumbai as not many are willing to accommodate a Muslim. So, he hides his true identity and finds a home, where he falls in love with the landlord's daughter, Neelu. Will Siraj be honest and disclose his secret to Neelu?

Guddu Engineer

Genre: Romance / Rom Com

Directed by Nikhil Advani, this romantic drama revolves around Guddu, an engineering student with a near-perfect life. To impress his girlfriend, Sonia, Guddu makes a wish list and manages to achieve all of it. However, a simple choice between love and hate changes things.

Dobaara

Genre: Dobaara

The story revolves around Parvathy, a free-spirited girl, whose parents force her to get married to Mohan. Post marriage, the couple moves to a new city. While Mohan gets busy with work, Parvathy looks after the family. Twenty years after their marriage, when their son graduates, Parvathy decides to take a drastic step.

Jeewan Hathi

Genre: Comedy

The film revolves around a middle-class couple whose marriage is on the verge of collapse, when they are lured in by a huge prize money to participate in a TV game show. The film highlights how the media thrives on controversy and creates conflicts in society.